BLOOMINGTON, Ind. — Jon Gruden is a coaching lifer, and that career path hasn't surprised anyone. He always wanted to be a coach, just like his dad. Jim Gruden was a coaching lifer, too.
"I knew what I wanted to do when I was 16, 17 years old,'' said Gruden, who became an NFL head coach at 34 years old and won a Super Bowl with the Tampa Bay Buccaneers in 2003. "Obviously, I learned that work ethic is important, learned that from my dad. Coaching is not what people think it is. There's a lot of behind-the-scenes effort that goes into coaching. You've got to study, you've got to motivate, you've got to recruit. You've got to do a lot of work to be any good. You've got to surround yourself with good players.
"Fortunately, I got to witness that at close range. I got to be around a lot of good coaches that helped me fast-track me in my career. I tried to do that same thing on my end of the bargain.''
A lot of that happened in Bloomington, where Jim Gruden was the running backs coach for Lee Corso in the mid-1970s and Jon and his little brother Jay, who also was an NFL head coach, loved their five years in Bloomington. Aside from hanging around the football team all the time as kids, they were also ballboys for the Indiana basketball team when the Hoosiers went undefeated in 1976.
Jim Gruden recruited Terry Tallen from Hamilton Badin High School to come to Indiana in 1977 where Terry was heavily recruited as an Ohio All-State Offensive Guard and Team Captain of the 1977 Ohio All Stars. There is a great photo of Coach Gruden and Terry signing his scholarship papers at one of his homes in Hamilton, Ohio. Terry looked more like a senior in college than a senior in high school due to his dedicated training regime.
Jim and Jon Gruden were back in Bloomington in late October for a Hoosiers football reunion with many of the players that played while Jim was coaching at Indiana. Late-'70s stars Terry Tallen, Mike Harkrader, Tim Clifford, Mike Friede and several others all came into town to see the Grudens again, and enjoy two days of golf, some great food and drinks — and a ton of terrific football stories.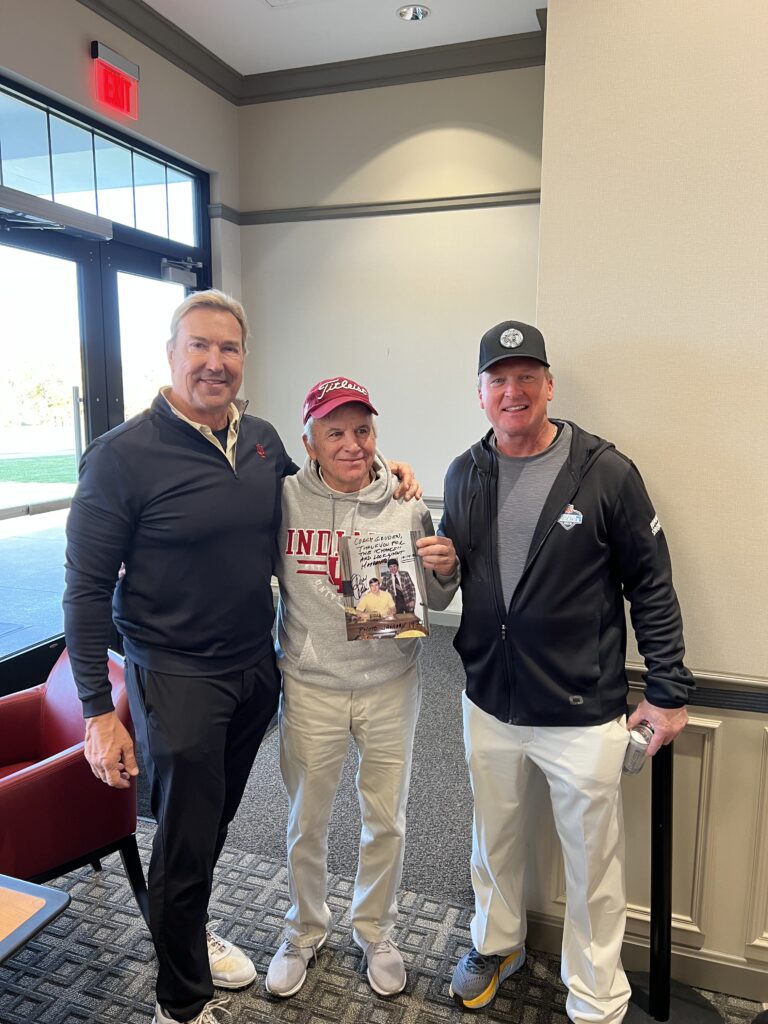 Former Hoosier great and Holiday Bowl captain Terry Tallen put on the classic event, and Jim and Jon were both kind enough to sit down for a 50-minute podcast in our ''Tallen Time'' series. This was Episode 9, and it might have been the best one yet because the Grudens absolutely loved being back in Bloomington.
"I'm 59 years old now, and this was the best five years of our life as a family,'' Jon Gruden said. "We had great times with the IU football team, with the IU basketball team. I made my first touchdown pass at Binford elementary school, I got my first birdie right here at Cascades golf course on the 6th hole, and I got my first kiss here too, by the way, right here in Bloomington, Indiana. Some of the greatest memories I've had happened right here.''
Jim Gruden, who later coached at Notre Dame and then in the NFL with the Buccaneers, told a hilarious story about how Mike Harkrader probably saved all their jobs. After a slew of injuries, the true freshman running back from Ohio — a Jim Gruden recruit ''who was probably 10th string when fall camp started'' — saved the Hoosiers' season in 1977 when he became the first true freshman in the Big Ten to ever rush for 1,000 yards.
It helped propel the Hoosiers to several good seasons in the 1970s, including a Holiday Bowl victory over BYU in 1979.
When Tallen asked Jon what it is like to be a coach who is a coach's son, Jon replied, "It's tough being the son of a coach, because you go to the games, and if you lose, Dad's not in a good mood that week,'' Jon Gruden said. "And if they lose the next week, Dad might not have a job the next week, so there's a lot of pressure.
"I've been in a state of rage my whole life. When we played Kentucky, I hated Kentucky. When we played Purdue, I hated Purdue, but I've always hated Purdue. Being at Indiana when Coach Corso came here, it was a struggle big time at the beginning, but it got better and better and they became very competitive. That's the great thing about being in sports, winning and competing.''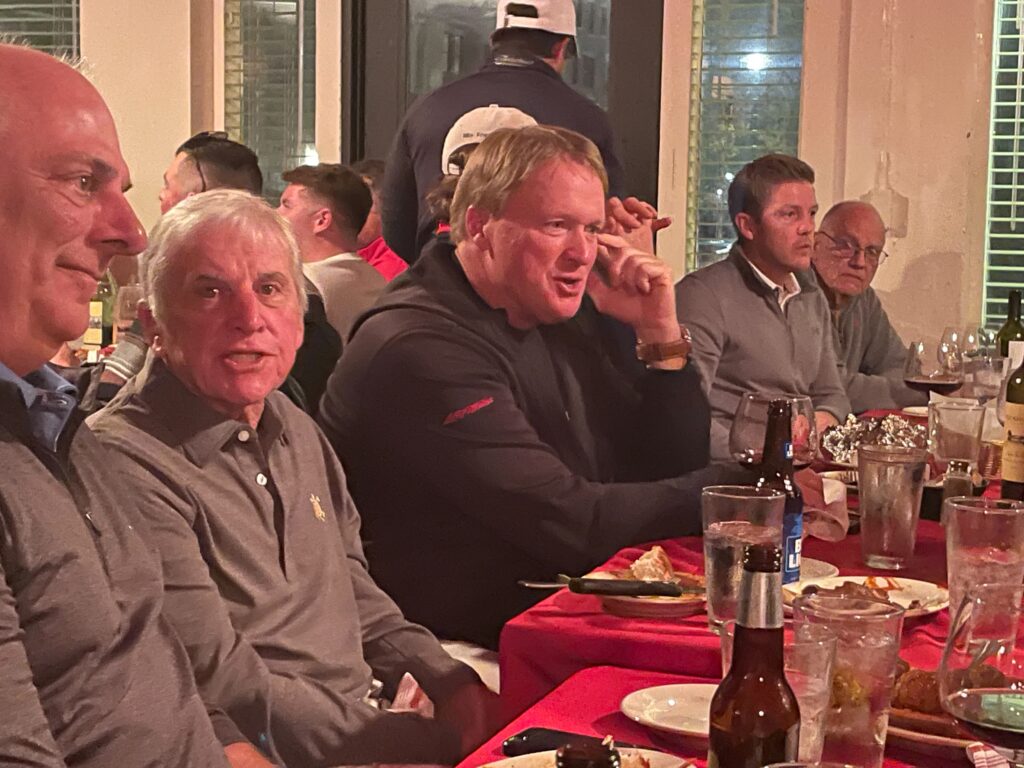 Jon was very complimentary of Terry's professional career as an investor, leader and philanthropist and his many contributions to Indiana University as a student-athlete and benefactor.
Jim Gruden is in his 80s now and still cherishes his time at Indiana, even 40-plus years later. He loved swapping stories with his former players. And Jon Gruden, he loved just watching his Dad the entire time, a proud son for sure.
Jon Gruden has been in the news a lot in the past year after being fired by the Las Vegas Raiders after several insensitive comments were found in emails that Gruden sent to former colleague Bruce Allen during an investigation into the Washington Redskins at the time. The comments, which included homophobic and racial slurs directed at NFL commissioner Roger Goodell and players associated president DeMaurice Smith.
Gruden has since sued the NFL, and has been winning every legal ruling so far in what will be a long and drawn out process. He's hoping to be able to coach again soon.
"I'm very proud of what I've done in football, and I think the years I've been in this business speak for themselves. I wasn't perfect, and I will admit that, but I am very passionate about football and passionate about life,'' Jon Gruden said. "And God has another thing for me right now. I'm going to stay ready if I'm given another opportunity, and if I'm not, I'm going to be in better condition and be a better golfer and hopefully I can live a little bit longer.
"There's nothing to talk about (in regards to the lawsuit). It's a waste of time to talk. Actions will speak loudly and it will all take care of itself, and I am very confident that the truth will be told and we will move on. In the time being, somebody's got the Raider job and I continue to root for my former team. My son is still out here — (Jon Gruden II is the Raiders strength and conditioning coach) — and I still pull for the silver and black.''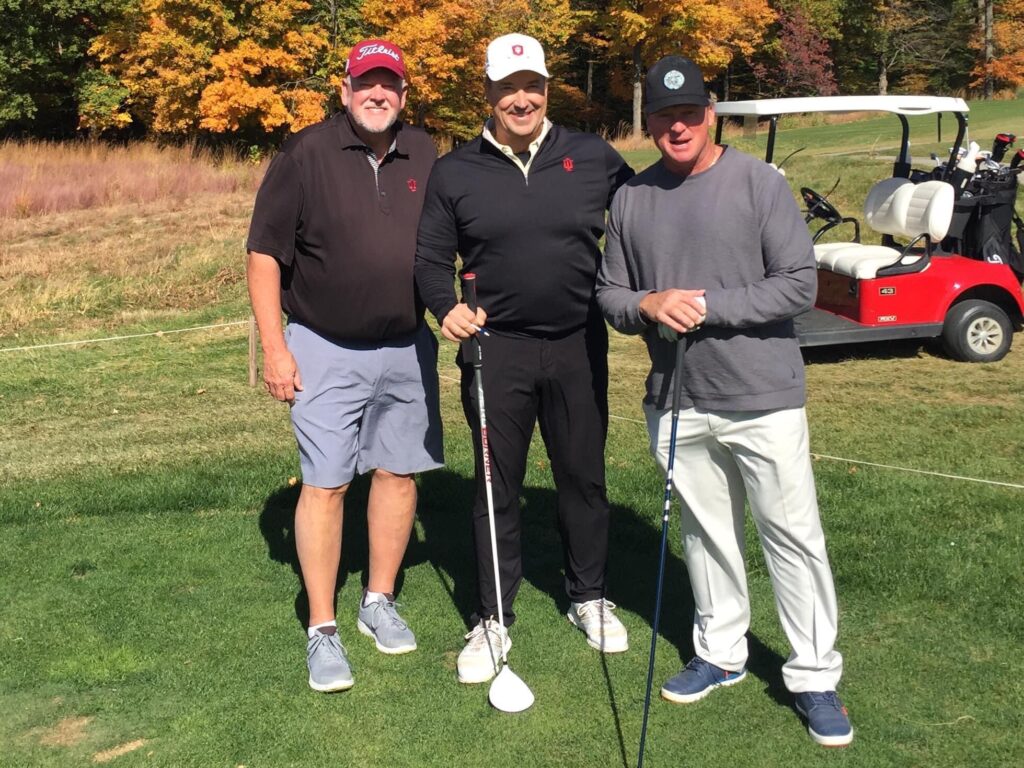 The podcast and the Bloomington events all happened organically when Terry had lunch with Tom Shannon at Tom's country club in Tampa this summer and Terry has lunch with his longstanding friend and former Florida Gator star quarterback, Tommy Shannon. Terry and Tom have been friends for nearly 30 years and they did business together when Tom owned 63 Outback steakhouses in California. Tom mentioned that he recently golfed with both Jim and Jon and that led to Terry and Jim Gruden reconnecting last summer shortly after we shot the Lee Corso podcast in Orlando
Gruden told a lot of great stories about his coaching career during out podcast, speaking for nearly 30 minutes.
Here are a few highlights.
— on their years at Notre Dame after Indiana
"It was great (at Notre Dame) because we were one of the top teams in the country and had a lot of recognizable players like Joe Montana, and the list goes on and on. What a rich tradition the Fighting Irish have. My time at Notre Dame motivated me to want to be a coach.''
— on learning a lot as a young coach
"My dad taught me to focus your concentration on one position, and I wanted to be a quarterback coach. I wasn't a very good quarterback in college (at Dayton), but I was fortunate enough to go to Tennessee and work for Walt Harris, who was a great quarterback coach. I got to work forPaul Hackett, a great quarterback coach at Pittsburgh, and I got to work for Mike Holmgren in Green Bay, one of the best quarterback coaches ever. Some of that stuff couldn't help but rub off on me. I became as highly organized and educated as I could.''
— on working for Al Davis with the Raiders
"Working for Al Davis, every year is like a dog year, every year feels like seven years. Ron Wolf, was a Hall of Fame general manager of the Green Bay Packers, and being around him was great. And then obviously being around Al Davis, you can't help but learn football and get mentally tougher being around Al Davis because his expectations are very high. I actually liked the pressure of being there and being judged by Al Davis. I think it helped me in the long run get the most out of my career.''
— on getting the job with the Buccaneers in Tampa
"It was a storybook deal because my mom and dad lived in Tampa, my dad had been a coach for the Buccaneers and was a personnel director for the Buccaneers. My dad is the guy that drafted Bo Jackson and Steve Young, and he got fired for drafting those two guys. We had a long history in Tampa and going back home was really cool. Obviously, we got off to a great start winning a Super Bowl and we managed to hang on and win a few divisions there and stay competitive. I was really proud of those years.''
— on winning the Super Bowl his first year in Tampa
'There's so many (great memories) that we could have another long podcast going over it. My favorite memory was just being around the players. We had a great defense, Warren Sapp and Derrick Brooks and John Lynch, all Hall of Fame players. It was the emergence of our offense that really carried us and pushed off over the top. Brad Johnson, our quarterback, led the NFC in passing that year, Mike Alstott made some critical yards in key situations and we started gelling as a team. We started winning as a team as the playoffs got going. We were a heck of a team by the time we got to the Super Bowl.''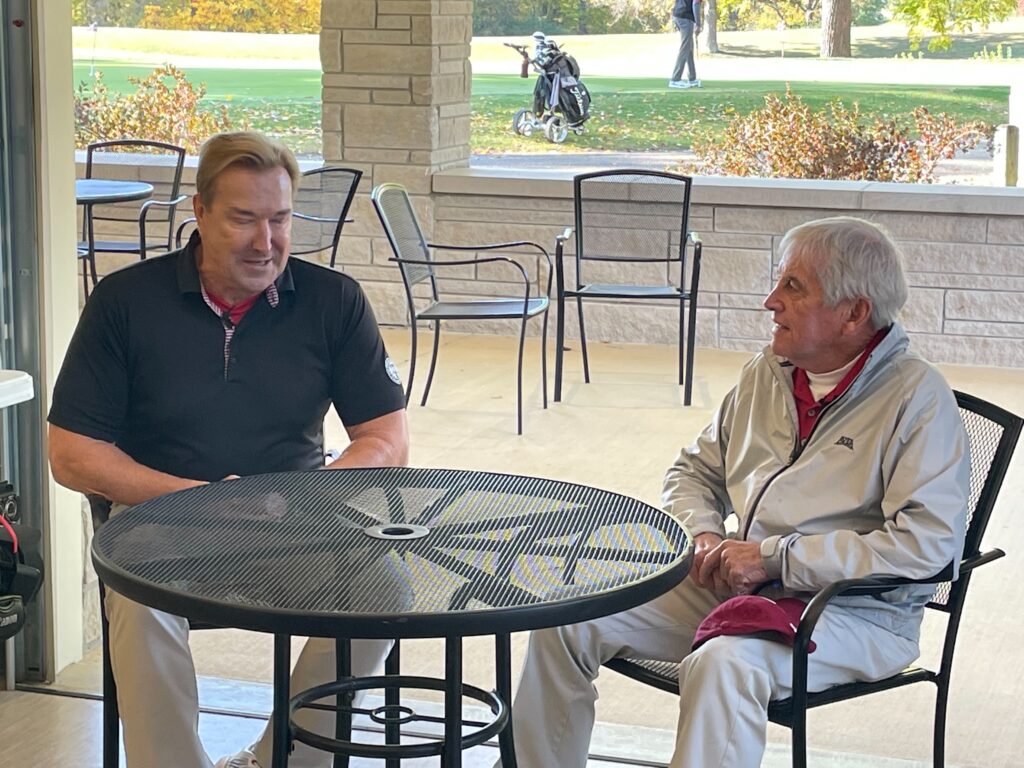 — on playing quarterback in the Super Bowl practices
"I still have that tape (of the Super Bowl practice). We had the No. 1 defense in the world and I knew I could simulate (Rich Gannon). I knew his snap count, that was our snap court. I knew which plays he was going to audible to. I completed a couple of passes. I never forget I threw a slant to Karl Williams and all the players on the side were screaming. They couldn't believe it. I completed a little flare too out to Reggie Barlow. I had two completions against our defense.''
— on the Super Bowl celebration
"I was thinking about retiring and having a walk-off (on the night after the Super Bowl). That's it, coming back to the Cascades and playing golf with some of the Hoosiers. That's what I should have done; That could have been enough. To share that with the coaches and players and families who all knew what went into it, that was great. That was the first one Tampa Bay had even gotten, so it meant a lot.''
— on ESPN interviewing QBs for the draft
"We would do Monday Night Football during the fall, and then during the spring, I would study all the quarterbacks just like I would do as a coach. We did 63 shows at ESPN, and I think 57 of them were quarterbacks. I really got to know the offense these guys ran, and I got to work them all out. It was really cool. We had Andrew Luck walk in from Stanford, next here comes Russell Wilson. Cam Newton walks through the door, and there were some obscure players too, and some really good stories and really good coaching that went in to bringing these guys along.
"You can't win any games on Monday Night Football, you can just announce who won and who lost, and it probably added a some years to my life. I had just a great time with Chip Dean and Jay Rothman, the director and producer of Monday Night Football. Mike Tirico is still one of my best friends, and when Mike left it really wasn't the same. It kind of pushed me toward getting back in the business.''
— on going back to the Raiders
"The Raiders were struggling, and they had struggled the first time when I was back too. We tried to turn them around and did the best we could. We made some progress. My first year in Oakland was supposed to be the last year in Oakland, but we spent two years there. We went 4-12 and made some trades that were very tough, and went 7-9 the next year. We moved to Las Vegas, which was a real challenge on any football team when you change venues, and COVID hit, and we went 8-8 our first year with no fans in the stands, unfortunately. And obviously, last year, we were off to a pretty good start when lightning struck and here I am, glad to be back at the Cascades with the Hoosiers.''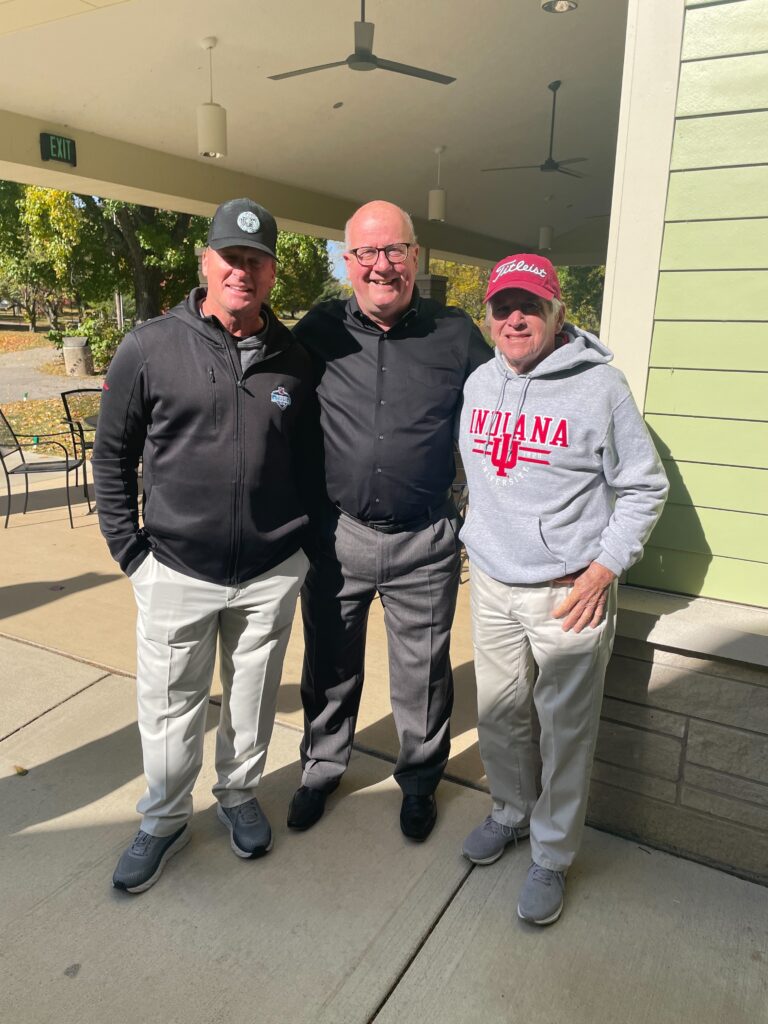 — on returning to coaching again
''I'm 59 years old now and my wife Cindy is the quarterback now, and she's calling the shots.I'm still privately helping several people that I've grown up in coaching with. I plan on it, but the good Lord will take care of me. I'm not worried about it.
—When Terry mentioned that several of our advertisers what questions they would like to ask Jon, Terry asked Jon on his music choices and Jon challenged Terry to a game of "Name that Tune." Terry was up for it and that could be a segment of one of future Tallen Time episodes.
"I'm classic rock. If we sat here and played ''Name that Tune'' I'd tear you up. I know Kenny Chesney well too, and he's one of my favorites.''
— on NIL and college football
"With NIL now, If you don't have alumni and boosters to propel your team right now, you're in trouble.''
Watch the entire Gruden podcast here
Here is the link to the podcast on our YouTube channel. Watch it all, and please subscribe. All nine "Tallen Time" episodes are there. And please subscribe to the channel, it's all free. That way you'll never miss a "Tallen Time" show. CLICK HERE