By Tom Brew
Welcome back to the "Tallen Time" podcast. It's Super Bowl Sunday and we thought we'd say hello to one of our favorite NFL players, New York Giants linebacker Micah McFadden.
Micah was a star linebacker at Indiana for four years, from 2018 to 2021. He was a big piece of the group that helped Indiana make great strides as a program, going 8-4 in 2019 and 6-1 in 2020, reaching the top-10 in the Associated Press national poll.
He was drafted in the fifth road this year by the Giants, and he played a nice role on a New York team that had a winning season, won a playoff game and look to be playoff contenders going forward.
Micah joined Terry Tallen and Tom Brew for an online podcast. McFadden also talked about the differences in transitioning from college to pros and comparing it from the jump to high school. He also talked a lot about what he weekly grind was like as a pro.
Here are the highlights of the show, which you can watch right here. CLICK HERE
— On the rivalry with the Philadelphia Eagles, who are playing the Kansas City Chiefs in the Super Bowl on Sunday, Feb. 12.
"Yeah, the rivalries are just like college, like Purdue or Michigan State and the Brass Spittoon. When you play theses division games, as soon as you step on the field you know it's something special and you understand how important it is. It's awesome the play in the NFC East, which has so much history and had so many Super Bowl champions and great players.
"I don't want to say I want them to win when I just said how much we're rivals and there's mutual hatred between the two teams, but there's something that can be said about losing to the Super Bowl champion.
"It's so hard to win. It's hard to count out the Chiefs, but the Eagles offensive line is the best in the league and they really play physical. It'll be an exciting matchup, and it's all going to be about which defense can make stops, especially late in the game. I'm excited to see the matchup, especially with the run game and see who can run the ball.''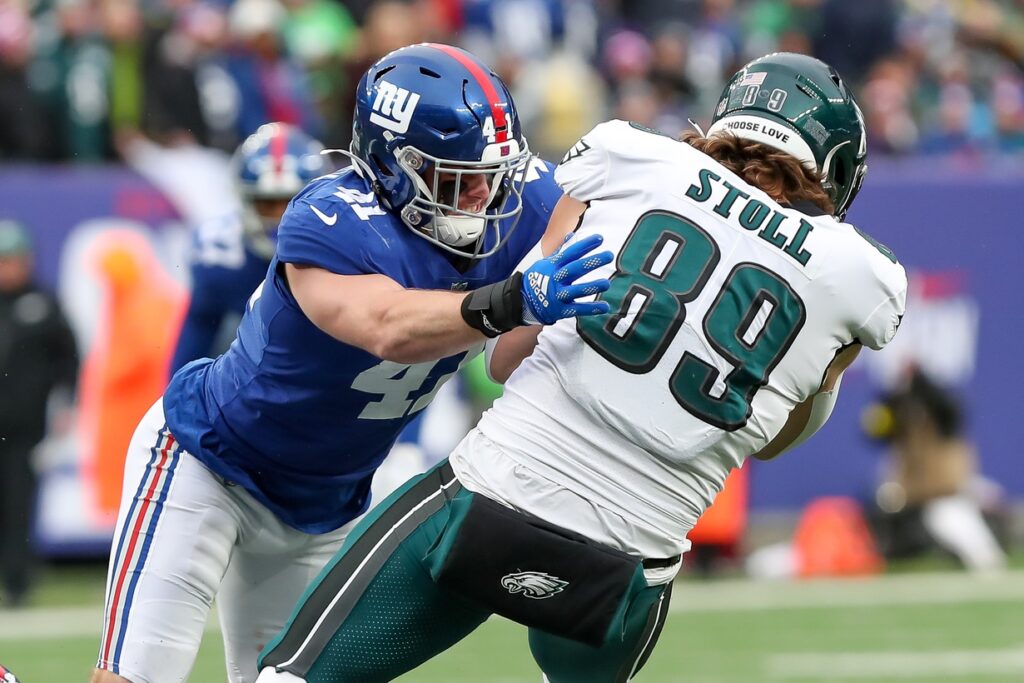 — On the biggest differences from college to the pros
"A lot of people don't understand the difference between the NFL and college. It's like night and day, with just the expertise and experience that guys have. You're playing against guys who have been in the league for 10-15 and they have it down to a science.
"Now the biggest difference for me is having to play physical into the line of scrimmage. You get that experience in college playing against Ohio State and Michigan. It was definitely a transition in training camp and during the season.''
"It's definitely a long haul. It's pretty much two college seasons back to back. Even those preseason games, being a young guy, you play the whole game.But you're certainly blessed to be there and play the game that you love.
— On what he's learned the most in his first season
"Shedding blockers, that was a big adjustment at my position. It's become a passing game, and that's so important these days. For m, covering backs out of the backfield was a learning experience too. The biggest thing is that everything is heightened, from practice. Meetings, everything. When you're playing 22-24 weeks in a row, you need to know what to expect and what to prepare for. You have have a pattern and what to expect, and the coaches do a great job with all of that.''
— on playing on such a big stage in New York
"I think we all know that winning is the goal and Brian Daboll, he brought that winning mentality into the building when he arrived. It's exciting to play for people who want to win, especially in New York the largest media market in the world. When you're winning and making the playoffs, it's so cool and it's so awesome to be a part of it, especially during my rookie year.''
— on getting first pro paycheck
"It's special. Obviously the money helps when you're playing the game. The first check to hit was my signing bonus, which is the biggest check you get. Obviously you don't want to say you play for the money, but it is nice. This is my job now. When I saw it was the New York Giants on draft day, it was so special. I'm just so honored and blessed to be in this position.''
— on seeing other Indiana players like Nick Westbrook-Ihkine (Tennessee Titans), Peyton Hendershot (Dallas Cowboys) and Wes Martin (Washington Commanders) and others
"I didn't get to get a lick on either one of (Westbrook or Hendershot). It's awesome when you see guys you played with in college. It's cool to see Peyton now that we're in the same division. We both let each other know how proud we were of each other. I saw Wes Martin too because he plays with the Commanders. I got one of his jerseys. too. And I got to see Dan Feeney and Tevin Coleman too. It makes you appreciate the culture that Indiana has and to see Hoosiers being successful in the NFL for a long time.
WATCH THE ENTIRE SHOW ON OUR YOUTUBE CHANNEL.
To watch the show, just click the link attached. And also like our YouTube channel and watch all 10 episode of "Tallen Time." CLICK HERE