Back in the early 1940s, during World War II, the W.A. Bechtel Company was awarded a contract to build warships just north of San Francisco, and that's when Marin City was born.
African-Americans from all over the South came West to Marin City in search of employment and opportunity. An integral part of the war effort, the African-American workforce came primarily from Louisiana, Arkansas, and Mississippi to build warships aiding the war effort. But when they got to northern California, segregation and red-lining relegated African Americans to the small community north of Sausalito.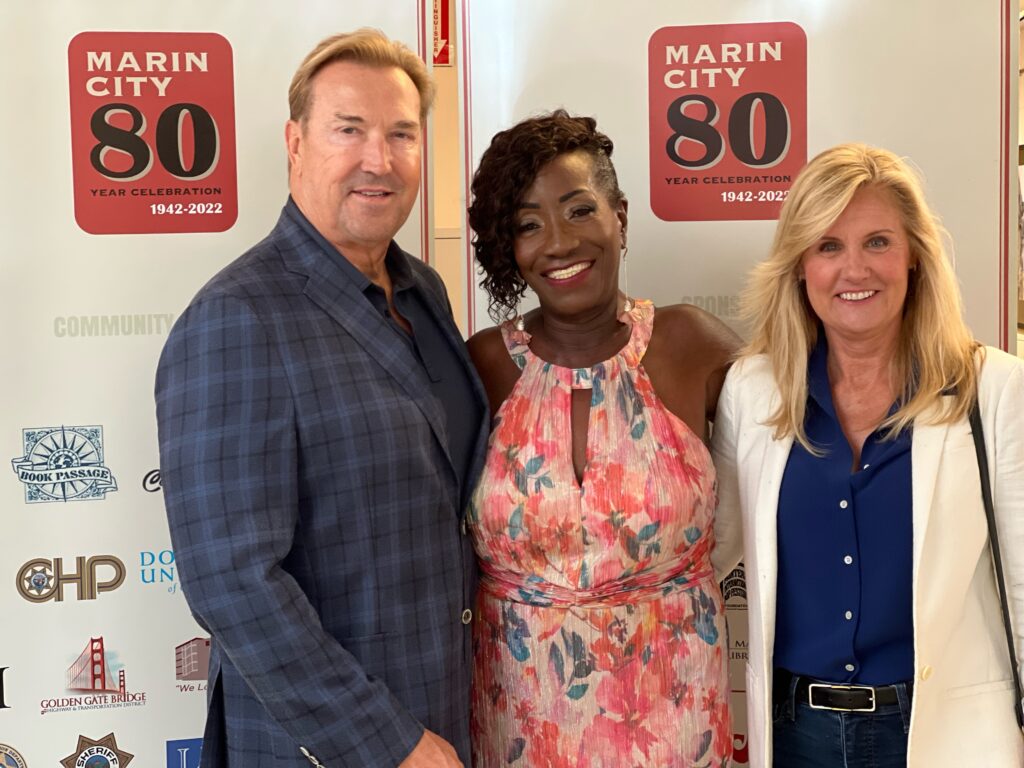 There's been an amazing 80-year history to Marin City, a community that has to try very hard to fit in through years of racism and struggles. They are celebrating that history this month and through Labor Day weekend, and it's been a cause that Terry Tallen, our "Tallen Time" podcast host, has cared about for years.
Part of our mission with "Tallen Time" is to put the spotlight on charities that doing great work. So we sat down with Felecia Gaston and Jahi Torman, who have created Marin City 80, a year-long celebration of history, culture, and art to bring forward the largely untold story of African American perseverance in Marin County.
Marin City 80 events to-date include the release of an album of songs about Black shipyard workers created by the Marinovators, a group of young people from Marin City and around the Bay Area. Music by the Marinovators is embedded in an art installation currently on display at the Marin Gateway Center. The installation honors shipyard workers and community leaders Ms. Annie Small, Ms. Rodessa Battle, Rev. Leon Samuels, and Mr. Joseph James.
The biggest Marin City 80 events are yet to come. According to their website, here are the exhibits, performances, and celebrations that will begin in August 2022:
The Legacy of Marin City, 1942-1962 at the Bartolini Gallery at Marin Center from August 20 to October 20. This exhibit will feature memorabilia from Black shipyard workers, along with contemporary art, artifacts in various mediums, a virtual reality experience, and historical perspectives on housing, overcoming discrimination with self-determination, and the resilience of the Black people of Marin City from 1942 to 1962.
 
The Joseph James Experience at the Showcase Theater at Marin Center beginning August 20. This multimedia show will include actors and singers celebrating the life of Mr. Joseph James, a shipyard worker and world-class singer whose stand against a segregated union led to a landmark ruling by the California Supreme Court.
 
The Legacy of Marin City: The Housing History, 1942-1962 at the Marin Civic Center beginning August 20. This multimedia display in the first and third floor lobbies of the Board of Supervisors will tell a narrative of housing discrimination, land grabs, predatory developers, and the continual fight for housing rights and equality in Marin City.
 
Labor Day Weekend Celebration. Everyone is invited to Marin City for a music festival, car show, and homecoming/revival celebration. The weekend will also feature a ribbon-cutting ceremony to commemorate the launch of the Marin City Historical and Preservation Society.
Additional Marin City 80 community events include an Earth Day celebration in April, a Mother's Day celebration in May, and a community 4th of July celebration.

For more information and to learn about sponsorship opportunities, please contact Felecia Gaston at (415) 332-8316 or [email protected].
Enjoy the podcast and help them out with charitable donations, if you can.
To watch the podcast, CLICK HERE And when you are there, subscribe to our YouTube channel so we can keep you updated all on the things we do for our nonprofits.